BRIAN KENT GOTRO, THE WHITE ROOM
24/7 Window Installation
April 2008
ON MAIN presents THE WHITE ROOM by Brian Kent Gotro. It is a new site specific video installation created for the windows at 1965 Main St. (ON MAIN). The interdisciplinary work will be on display 24/7 during the month of April. On April 25th, Gotro will present a short program of single channel pieces. Screenings at 8 & 9:30pm (free).
THE WHITE ROOM is a 5-channel video, an electric guitar, amplifier and microphone stand. THE WHITE ROOM is a self-portrait, the artist depicts himself smoking and surrounded by musical accouterments. The work references music, media and the act of smoking, which is used as an element time, passage and contemplation. This everyday action is silent – it is a suspended act. Are we waiting for the music begin or have we missed it?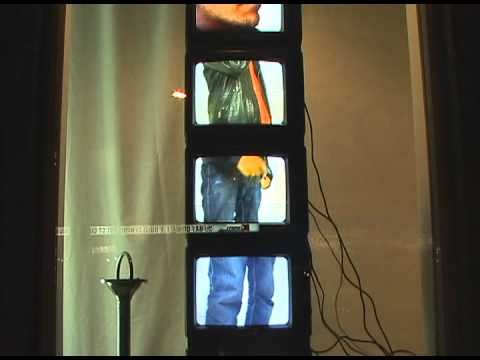 view the documentation above
THE WHITE ROOM is one in a series of public exhibitions created to address the tens-of-thosands of daily passerby's who walk, commute and drive by the storefront windows at ON MAIN.
On April 25th, Gotro will show a selection of recent and new tapes including Untitled, Absence, Presence, Place (screened at RestCycling Festial Berlin 2004), Mouth Trick (Microwave Festival Hong Kong 2005), The Notion of Self (Vernon Art Gallery 2007).
A resident of Vancouver this is his first solo exhibition and screening in lotus-land. Brian Kent Gotro, born in Kelowna 1977, graduated from UBC Okanagan, BfA. From 2002-2003 e worked as the Media Project Coordinator at the Alternator Gallery for Contemporary Art in Kelowna. His video art is distributed by Vtape (Toronto). He currently works as a studio assistant for Paul Wong Projects.
ON MAIN is a new project room and re-branding for On Edge. It is a shared venue for co-production, presenting and dissemination of visual, media and interdisciplinary art. Artistic Director: Paul Wong. On Edge (On The Cutting Edge Productions est. 1985) to promote, produce and present new art and artists. On Edge is assisted by the Canada Council. www.onedge.tv